March panel discussion provides INsights to help INhouse design teams thrive /
Sun / 03.10.13
By Terah Brossart, Seattle Division Director of TCG The Creative Group
It's no secret that the tides have finally turned: In-house design teams have made the transition from hidden assets to significant team players, even garnering their own conferences and award shows.
Now, AIGA and TCG The Creative Group have joined forces to identify key observations, challenges, and advice as the evolving role of the in-house design team revolutionizes the industry.
As a natural extension of INitiative, a program we developed with AIGA, we surveyed more than 400 in-house designers and thought leaders from all over the country. The findings are featured in 5 Trends Every In-House Designer Should Know: http://www.creativegroup.com/CTF
Trends include:
In-house creative teams are on the up and up
Heavier workloads and more specialized skills bring freelancers and agencies into the mix
The digital future is bringing new skills, along with new challenges
As part of the next step of AIGA's and TCG's ongoing INitiative program, we invite you to a panel discussion with local in-house design leaders on Tuesday, March 26, at the Seattle Art Museum. Our panelists come from a variety of industries and include:
· Marcus Pape of Amazon
· Diane Christensen of Costco
· Ryan Rosenberg of Wizards of the Coast/Hasbro
· Pia Hunter of Nordstrom
· Kevin Schroer of the Seattle Art Museum
Join us for the opportunity to interface with in-house creatives during our networking and cocktail reception. A panel discussion follows, during which you'll hear how first-hand how designers are trailblazing the future of in-house design and transforming their companies.
We hope you can join us for this novel event! For tickets or to learn more, go to http://www.aigaseattle.org/events/insight.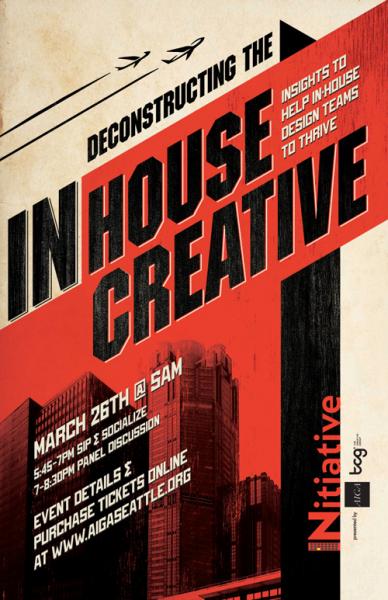 Terah Brossart is the Seattle Division Director of The Creative Group, a specialized staffing service placing interactive, design and marketing professionals with a variety of firms. More information, including online job-hunting services, candidate portfolios and The Creative Group's award-winning career magazine, can be found at creativegroup.com.