Live Design Fights! /
Fri / 01.11.13
In November we held the AIGA Seattle Pixels of Fury at Makers in Belltown, pitting six local designers against each other in three heads-up 20 minute battles. However the live button blitzkrieg in Seattle was only a small part of the ongoing series sponsored by AIGA's official national sponsor for inspiration: Shutterstock. Armed with their trusty mouse or drawing pad of choice, thousands of stock photographs and a standard Adobe CS6 setup, the sponsor's singular instruction of making a poster that could inspire felt momentous when they realized their work was going to be projected while they worked on stage. Crammed into half of the Belltown coworking and event space and holding a combination of Hilliard's tallboys, Trophy cupcakes and Pagliacci's pizza slices – over 200 sets of eyes watched and critiqued every click, stroke and design choice that was made in front of them.
Round One:
René Neri of Advisory Board v. Stephanie Battershell of Seattle Art Museum v. Nate Johnson of Xbox
Round Two:
Brian Thurston of Design Commission v. Amy Stine, freelancer v. Michelle Yang of Turnstyle
Round Three:
Stephanie Battershell v. Michelle Yang
Top row left to right: Posters by René Neri, Amy Stine, Nate Johnson, Brian Thurston
Middle row left to right: Posters by Stefanie Battershell, Michelle Yang, Stefanie Battershell, Michelle Yang
Bottom row: The crowd watches on. Michelle Yang is crowned the winner of AIGA Seattle's 2012 Shutterstock Pixels of Fury
MC Terry Marks steered the ship onstage with judges Kari Strand of Tether and Matt Mulder of Digital Kitchen perched on stools stage left, the contestants took to their battle stations as DJ Ape Space started his work on the crowd. Using Shutterstock's new Instant Search feature, designers were able to find high production value imagery and download high res comps at a ridiculously fast pace. And it was this speed that fueled the intensity: being able to find whatever a designer could think up on the spot but also each one could look up to see what the others were creating at any moment and respond to that in their own work.
Battershell and Yang were able to come out strong and move ahead from the first two battles of the night. The mano a mano final round was kicked off with the exchanging of poster concepts and the challenge to execute on the theme stronger than the other previously had. A mighty struggle ensued and it was Yang that came out on top with the pride, Shutterstock & Adobe subscriptions, and the furious pixel trophy.
Stay tuned-in here on the blog, our Facebook page, or with @AIGAseattle to catch the latest event news.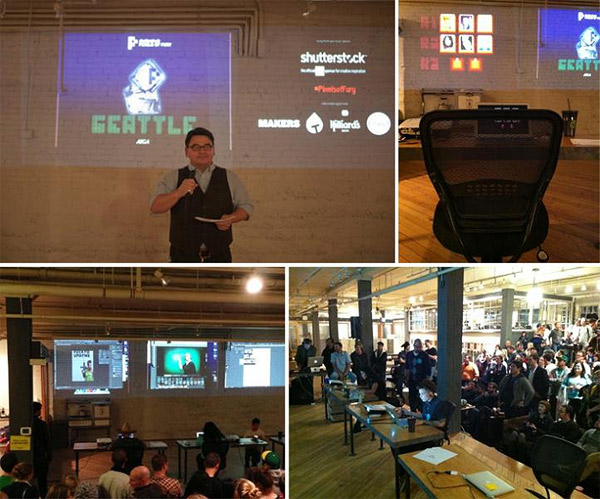 Clockwise from top left: Photos by Erik Simpkins, Rob Toledo, Luke Clum, Rob Toledo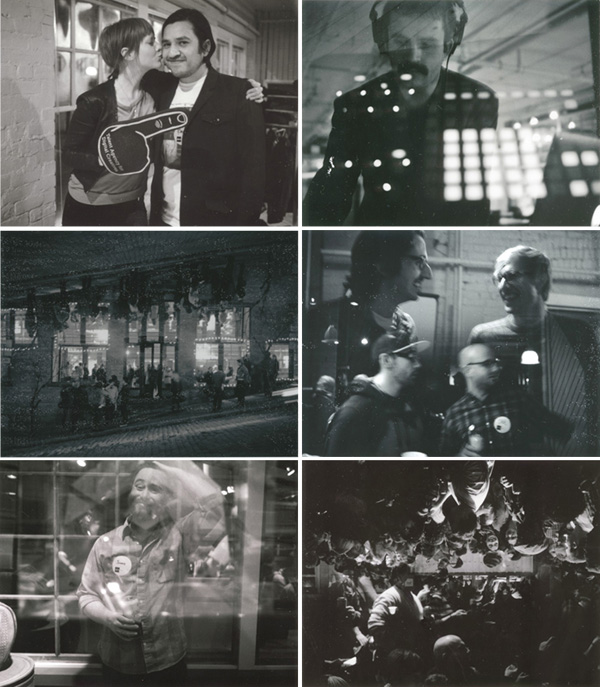 Local photographer Erik Simkins shot the event on a Polaroid 250 with Fuji 3000B, his split frame double-exposure portraits document how intense and yet how fleeting the whole competition truly was.
Event recap written by Jonathan McConnell
Promotional material designed by Jonathan McConnell
Development work by Neil Palmer